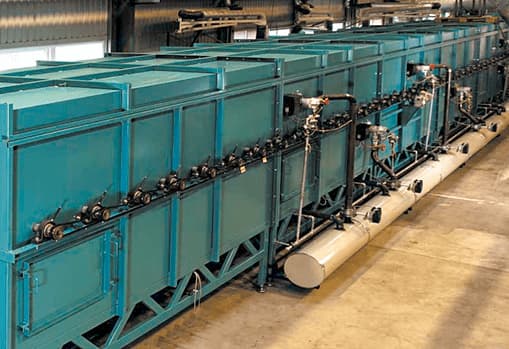 From recycled glass to foam glass
One of the largest projects completed by Fornax are two high-temperature conveyor ovens. The ovens are 45 meter long, 2.6 meter high and 2.3 meter wide.
A customer required high-temperature ovens for processing of recycled glass material that would otherwise end as landfill. In a continuous process, the glass is first ground to powder and then fed into the conveyor oven in a continuous thin layer where it is heated to approximately 1000 °C. Heat and additives cause the glass powder to melt and expand to a porous glass material with a structure resembling that of aerated concrete.
The final material has extremely good insulation properties and is used as a building material in road construction, and in other contexts where low weight and high insulation properties are required.
The Fornax conveyor ovens are heated by gas or electricity – the latter significantly improving the green footprint when using energy from renewable energy sources.